Quality Products & Service for All Your Bowling Needs!
We pride ourselves on providing customers with the best-quality products and personal service. We stock and sell bowling balls by Brunswick, DV8, Hammer, Storm, Roto Grip, and Columbia, just to name a few. From the beginner to the advanced bowler, all of the major bowling ball manufacturers offer a wide range of bowling ball choices to suit a particular style of bowler.
Bowling Bags
Single Rollers
Double Rollers
Triple Rollers
Carry Bags
Shoes
Gloves
Tapes
Additional Accessories
Finger Inserts
---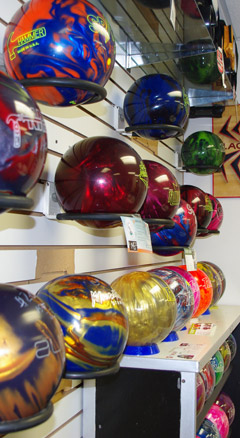 Stop by the center and visit our retail location. You can also order over the phone.
Let us help you improve your game with the right equipment. From the beginning bowler to the professional, we can help you select the proper equipment!
We specialize in drilling, fitting bowling balls and bowling equipment.
We now feature the Vise IT system and Ultimate Thumb system (Interchangeable Thumb Insert). This is a great feature for anyone that has trouble with there thumb hole or trouble getting every ball to feel the same. This eliminates these problems by having one thumb insert that can be changed from ball to ball. Swing down and have us show you one and how they work.
---
Stop in and visit our pro shop. We have many items in stock. We look forward to doing business with you!
---
Are you from out of town? Call us and make an appointment during the week or weekend. We are very flexible with your schedule.

---
Pro Shop Hours
Mondays - 2pm - 8pm.
Tuesday through Friday - 9am - 4pm.
Saturday and Sundays - By appointment only.

By Appointment
Please call us if you have any questions.
Pro Shop Manager

Dana Stanton - (605) 342-2935
Email - Robbinsdale@outlook.com